Fly with hot air balloon!
1. Choose your flight » 2. Register by phone or e-mail » 3. Fly!
1. Išsirink skrydį
2. Užsiregistruok telefonu arba el. paštu
3. Skrendam!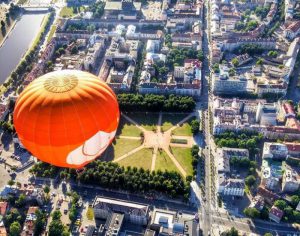 Airmen Club "Sky Flowers"
Experience from generation to generation
Airmen club "sky flowers" was found in 1997. According to the pilots, their success comes from the love of flight and freedom. It would be fair to say that this love can be passed to a new generation.
Romanas Mikelevičius – club founder, first experienced the sensation of air balloon flight back in 1988 and stayed in the balloon ever since, as he likes to say. He is one of the most experienced air balloon pilots in Lithuania, holding over 2550 hours of experience and increasing the number every day. Since 1991 Roman is attending every air balloon championship in Lithuania and is even known to people outside this field as the one who took a known billionaire Richard Branson on a flight.
Choose your hot air balloon flight
Morning


hot air balloon flight
Enjoy awakening nature
Start day with great emotions and amazing views
Arise to the sky earlier than sun
85€
Most popular
Hot Air Balloon Flight
Look on the world from up above
Fly with one of the most experienced team in Lithuania
Experience what You will remember for the rest of Your life
Fly in the morning or evening
95€
Romantic

hot air balloon flight
Only You two and the pilot in the air balloon
Great gift for your second half
Great for special occasions
299€